King of the County Pedophiles
The life, death and final escape of Father Eleuterio Ramos
By Gustavo Arellano, OC Weekly, December 14, 2005
[See also other articles by Gustavo Arellano.]
(Editor's note: the names of sex-abuse victims are pseudonyms.) [See below for links to source documents.]
The blood. And shit. And semen. Robert can't get it out of his mind, his dreams, his life.
He was 14 in the summer of 1984. He had moved with his family to Texas sometime before and now, on summer vacation, had returned with them to visit friends and old neighbors in Santa Ana. While in his former hometown, Robert's family ran into their old parish priest, Father Eleuterio Ramos. Ramos had tickets to the Olympic gold-medal soccer game at the Rose Bowl that week. He had invited Robert's former neighbor, Michael, but Michael refused. Robert agreed.
The day before the match, Robert and Ramos spent the day in Tijuana. They rode horses, ate lunch and, despite Robert's youth, knocked back beers. They crossed the border and visited a porn store in San Diego, where they were going to stay the night. As Robert skimmed through the movies, he noticed Ramos talking to three strangers who eyed Robert and occasionally nodded.
Later that night, Robert hopped into the shower. Ramos joined him. He grabbed Robert's penis, snapped some Polaroids and began orally copulating the teen while ramming a finger in his anus.
After Robert ejaculated, Ramos led him to bed. A knock on the door. The three men from the porn store entered, blindfolded Robert and tied him up. Ramos grabbed his Polaroid.
For the rest of the night, the three men took turns raping Robert. Two men would sodomize him at the same time while the other forced Robert to blow him. Then they would switch: the two men would simultaneously put their penises in Robert's mouth while their partner anally raped him; sometimes the impotent Ramos joined by orally copulating Robert. But he mostly stood off to the side, snapping pictures. Robert finally passed out.
The 14-year-old awoke the next day to Ramos trying to fellate him once more. Robert pushed him off. He took off the blindfold. A frothy mixture of blood, feces and semen stained the hotel bed sheets.
Robert was just one of more than 25 boys Ramos admitted to fondling, drugging, groping, gang-raping, sodomizing, photographing and fellating during a decade-long career in Orange County parishes from Placentia and Santa Ana to Brea, La Habra and Anaheim. Controversy engulfed Ramos at every stop. His superiors typically listened to the priest's critics and took notes—and then let Ramos escape to the next parish.
Through the years, victims sued Ramos. They filed police reports, to no avail. But in the spring of 2004, as lawyers, victims and police investigators made one final push to bring Ramos to justice, the priest performed the ultimate escape: Ramos died.
Big Al
Everyone called him Big Al. Though he stood 5-foot-7, there was no screwing around with Father Eleuterio Ramos. The man was large, bearded and loud. He was a priest, but he liked to get drunk and rumble at bars. If anybody screwed around during Mass, Big Al screamed at the culprit. Despite that, all the altar boys wanted to work with Big Al. He cussed freely and told the funniest, most inappropriate jokes: "An Easter bunny doesn't lay eggs, it gets laid" was a favorite. And after Mass, back in the sacristy, Ramos passed around the consecrated wine. He wasn't like the other priests, the altar boys told their jealous friends: Big Al was one of them.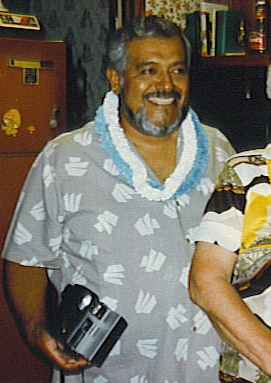 Ramos in Dallas, 1989. Pictures of Ramos courtesy of Robert.

Big Al liked to take his servers after Mass to Camelot, a miniature golf and arcade mecca off the 91 freeway in Anaheim. While the boys played the latest video games, Ramos contented himself with pinball. If they didn't go to Camelot, Big Al treated them to R-rated movies, wine coolers, beer, firecrackers, cigarettes, even Playboy magazine. All for a job well done, he told his altar boys.
Interviews, psychological records and court filings of more than a dozen Ramos victims show Ramos would employ the same tactics over and over in molesting his victims. On the drive home or in a movie theater, if it was just Big Al and a boy, the priest would grab the boy's crotch over his clothes. If the boy didn't complain—and they rarely did—Ramos would invite the boy to his rectory room to stay the night. Ramos would call the boy's parents; the parents never objected.
In the rectory room, there was more alcohol—usually a screwdriver, a potent cocktail of orange juice and vodka that the kids would mistake for rotten orange juice. There was more porn. More cigarettes. More groping. In his room, Big Al pulled down a screen, loaded an eight-millimeter film projector, and screened hardcore gay porn. He asked the boy to take off his clothes. If the boy wasn't yet erect, Big Al began fondling him. Once the boy was erect, Big Al started snapping Polaroids. He'd stash each still-developing picture in the top drawer of his bedside cabinet, where he kept the other photos.
If the boy was prepubescent, Big Al would give him a toy—often a Star Wars figure—to distract him from what happened next. He liked fellating boys until the victim ejaculated in his mouth. On some occasions, other men—other priests—enjoyed the boy as Big Al took pictures.
Big Al Ramos molested boys everywhere. His rectory. Cabins in Big Bear. Motels in San Diego. Dallas. Tijuana. Cars. Movie theaters. The Motel 6 in Orange off the 5 freeway. But regardless of the location or circumstances, each molestation finished the same way: Ramos gargled with Listerine.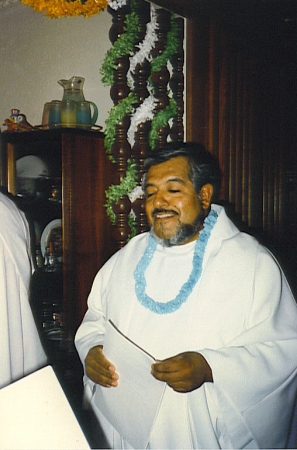 Ramos in Dallas, 1989. Pictures of Ramos courtesy of Robert.
ELEUTERIO VICTOR RAMOS JR. WAS BORN IN 1940 in Montebello, the fourth of five children. "My son always wanted to be a priest," Eleuterio Sr. told The Tidings, the official newspaper of the Catholic Archdiocese of Los Angeles, years later, and the parents helped young Eleuterio reach his dreams from an early age. They enrolled him in Queen of Angels Seminary High School in San Fernando, a high school for boys bound for the priesthood. "I always felt that given the chance to be a priest, I would take it," Ramos told The Tidings on the eve of his graduation in 1966 from St. John's Seminary in Camarillo. "It is hard to pinpoint anything specific. But there was something attractive about seeing those priests, their life of helping people."
Ramos had barely taken his priestly vows before accusations of pedophilia began swirling around him. He is named in nine sex-abuse lawsuits currently in litigation dating to his years as an associate pastor in parishes across Los Angeles County from 1966 to 1975; one victim claims Ramos orchestrated a gang rape of her as a 10-year-old in 1968 at St. Thomas the Apostle Parochial School in Los Angeles after she told another priest Ramos was molesting a boy. His superiors found Ramos "immature" and bounced him from parish to parish until March 5, 1975, when church officials moved Ramos to Orange County, at the back end of the Los Angeles archdiocese in Placentia's St. Joseph church.
But not even a month had passed at St. Joseph before Ramos molested a child. In a confidential memo dated March 27, 1975, Monsignor Joseph Rawden, chancellor for the Los Angeles archdiocese, wrote that Ramos would start psychological care. The suggestion came from the Orange County district attorney's office, citing "a recent incident." [See Rawden's 1975 letter and Driscoll's inaccurate 1985 description of the letter. All links to documents have been added to this article by BishopAccountability.org. See also Arellano's The Damning Documents and our illustrated assignment record of Ramos.] Because of his predilection for boys, Ramos would continue to visit this psychologist, Dr. Klaus D. Hoppe of the Hacker Clinic in Los Angeles, for the rest of his life. [See Ramos's initial request for financial assistance to cover his sessions with Hoppe.]
Ramos left St. Joseph three years later for Immaculate Heart of Mary in Santa Ana. The whispers started again. In September 1979, Immaculate Heart teacher Lyda Brown wrote to Orange Bishop William Johnson about a "confidential matter of great concern" involving Ramos. Ramos, it seemed, kept pulling boys out of class to invite them up to his rectory room.
Church officials did nothing.
Two months later, another teacher wrote to Johnson about a "very grave school matter." Ramos, it seemed, bought altar boys alcohol and took them to see inappropriate movies.
Church officials did nothing.
Then the parents of a boy named Frank approached the Orange diocese. They attended St. Joseph while Ramos still ministered there. When Ramos returned to St. Joseph around November 1979 to officiate over a wedding, he asked if the 12-year-old Frank could help. He also suggested Frank spend the night at Immaculate Heart. Frank's mom would later tell police she "reluctantly" agreed.
That night, Ramos plied Frank with a screwdriver—orange juice and vodka—and orally copulated the boy as he passed out. Frank told his parents the next day; they promptly visited Father George Breslin, their pastor at St. Joseph, Ramos' old boss. Two weeks later, Ramos left Immaculate Heart for a Massachusetts clinic operated by the St. Luke's Institute, the Roman Catholic Church's official rehabilitation program for pedophilic priests. A bewildered Immaculate Heart of Mary congregation heard on Christmas Eve that Ramos would go away for treatment for alcohol abuse, a problem Ramos blamed for his pedophilia.
Before Ramos left Immaculate Heart of Mary in 1979, he wrote a four-page letter to the teacher who turned him in. Ramos admitted to making "very serious mistakes" but lambasted the teacher for "unchristian roles played by [you and] your cohorts" in their "plot" to oust him.
"Through death we come to life," Ramos wrote near the end:
When the old self dies, the new self comes alive. I have no problem admitting my alcoholism and its related faults to you, to others, and to God. I am on the road of healing and recovery—my old self is dying. I look forward to my new self being born again in body and in spirit to serve God and His people more faithfully and wholeheartedly than before.
"There must be a Good Friday of passion and suffering and death," Ramos concluded, "before there can be an Easter Sunday of triumph, joy and new life."
But even while Ramos was away to cure his illness, he continued to proposition boys. A letter from this time period, written on St. Luke's stationery, is addressed to a 13-year-old boy with the plea, "Can we get together and stay overnight?"
RAMOS RETURNED TO DUTY A MONTH AFTER returning from St. Luke's in May 1980. Orange diocese officials assigned to Brea's St. Angela Merici. He continued to molest; church officials continued to move him. He next served at Our Lady of Guadalupe in La Habra in July 1983 but stayed there just a year before Bishop Johnson promoted Ramos to pastor at St. Anthony Claret in Anaheim in July 1984. A year later, church officials announced Ramos was leaving for Tijuana on missionary work.
By then, church officials had tired of covering up Ramos' numerous crimes (see accompanying article). Johnson called his colleague in the Tijuana diocese, Bishop Emilio Berlie, after Ramos acknowledged "slipping" with a 17-year-old altar boy at St. Anthony Claret. Johnson, crying on the phone, asked Berlie if he could take Ramos. Berlie agreed. Three months after Ramos admitted to his indiscretion, Tijuana church officials placed him in charge of a children's ministry in Our Lady of the Divine Providence in Tijuana's impoverished Colonia Libertad district. [See Driscoll's notes stating that Ramos had "slipped" and Soto's memo on how Johnson "wept."]
Orange diocesan officials prohibited Ramos from ever ministering in the States again. Nevertheless, Ramos would cross the border and officiate at family weddings and baptisms many times during the next five years, always with the knowledge of church officials. In one case, he conducted the wedding of Robert, the same boy whom Ramos and three men had gang-raped.
"Even though you are living apart from us; you still belong to us," Johnson wrote to Ramos shortly after he arrived in Tijuana. "We very much care about what happens to you and we will do whatever needs to be done to be of assistance."
Ramos lived in peace for the next five years. "My present ministry in Tijuana is a most enriching and loving experience," he wrote to an Orange diocesan lay worker a short time later. Johnson awarded Ramos a $332-a-month stipend (later increased to $500) along with full car and health insurance. Bills show Ramos forsook clinical care in Tijuana for St. Jude's Hospital in Fullerton. As the years passed, Ramos also headed the liturgical commission for the Tijuana diocese and was one of the few priests who fearlessly administered sacraments to AIDS patients. When Berlie met Norman McFarland, Johnson's successor, at a bishops' conference in Dallas during the late 1980s, Berlie told the Orange bishop, "Gee, we have one of your priests down here, and he's doing a great job for us."
On the 20th anniversary of his ordination, in the spring of 1986, Ramos sent a card to friends—and many of his victims. "These 20 years have given me moments of pain, problems, difficulties, failure, and illness," Ramos wrote. "You have prayed for me, stayed by me, cheered me, laughed at and with me—in a word, you have loved me."
His Friend Al
While Ramos enjoyed his new life in Tijuana during the spring of 1990, Michael was about to start anew as well.
The 25-year-old's life had bottomed out. He graduated from Mater Dei High School and Chapman College in the 1980s despite drinking heavily and taking copious amounts of drugs. "My drug of choice was more," says Michael, now sober for 16 years.
In 1989, Michael earned his third DUI. He entered Alcoholics Anonymous under a court order. Through A.A., Michael got a sponsor who suggested therapy. There, it all came back.
Michael was 11 years old when Ramos arrived at Immaculate Heart of Mary in 1978. He describes his family as "hardcore Catholic." The kids attended the parish school; the parents, both immigrants, volunteered all their free time at Immaculate Heart and attended Mass six times a week. Michael was a rectory boy—he fielded calls, opened mail, and noted when priests came and left.
One Friday night in the winter of 1978, Ramos asked Michael if he could help at a quinceañera the following day. Ramos called Michael's parents and asked if he could spend the night. That wouldn't be a problem, they said; by that point, Ramos was already taking Michael home late at night.
Michael got off work at 9 p.m. and went up to Ramos' room. There, he found other altar boys smoking and drinking. Ramos offered Michael some orange juice, which he thought tasted rancid. He didn't know then that it was the first time he had ever tasted alcohol.
The other boys drifted away until just Ramos and Michael remained. Ramos let the diminutive Michael drink more screwdrivers, which made him feel dizzy. The preteen lay on Ramos' bed to collect himself. Suddenly, Ramos leaped on top of Michael and began kissing him. "I couldn't get him off," Michael says now. "The fat-ass was just too big." Ramos kept his full weight on Michael as he undid his pants and kneeled.
When Ramos finished, Michael fled to the bathroom, locked the door and stayed there through the night. The next day, he helped Ramos with the quinceañera.
Ramos molested Michael for almost a decade, from the time Ramos was at Immaculate Heart until his departure for Tijuana, when Michael was 18. He would pull him out of class and take him on vacations.
"He told me I was his special friend," Michael says. "Whenever we were alone, he would always grope me. So I learned to drink as much as possible as quickly as possible, then forget everything."
Through therapy, Michael remembered more: the sexually suggestive letters Ramos constantly sent that always ended with the note, "Your friend, Al"; the molestations; the things Ramos would tell Michael: you're my gift from God. God gave you to me. Our paths were destined to meet.
Prodded by his counselor, Michael wrote Ramos in July 1990. "I realize that this letter is a long time in comming [sic]," Michael's letter began. "Up until last week, nobody knew the truth behind our friendship."
Michael pleaded with Ramos to explain why he had molested him for so long, and if there were others. "Why the molestation?" Ramos responded a short time later. "As best I can presently understand, it is a complication of mental, emotional and physical problems and illnesses all complicated by alcoholism.
"Were you the only one violeated [sic]?" Ramos continued. "No."
Ramos blamed his pedophilia on physical, sexual, mental and emotional abuse he claimed to have suffered as a child and teen. "I am so sorry to put you through this living hell," he wrote.
Ramos wrote another letter to Michael on Sept. 11 of that year. By this point, Ramos was paying for Michael's counseling. "I am a man without a country: a USA citizen, but unable to minister there," he disclosed. Ramos begged Michael not to bother him further for fear that church officials would find out. "The only thing that I am trained to do is my ministry," Ramos pleaded. "It's the only thing that I have; it's my life."
Ramos sent three $70 checks to Michael to help with any therapy costs. He told the Orange diocese about Michael; the diocese told Ramos to send Michael to them. They refused to pay for any further treatment.
Frustrated, Michael asked for legal advice. No lawyer believed his story. It was the early 1990s, and the McMartin Preschool trial had soured the legal community on the legitimacy of alleged victims claiming to remember repressed childhood memories through therapy. Finally, Michael contacted Werner Meissner, a San Pedro lawyer and former Golden Gloves finalist. Meissner was also skeptical until he called the Orange diocese and asked if they could possibly work something out. Michael remembers that when Meissner called Orange diocesan spokesperson Lawrence Baird to talk about Michael's case, Baird yelled, "If you want anything, we'll see you in court," and then hung up.
That was a mistake. "Werner is a fighter," Michael says. "He's relentless. The last person you want to piss off in this world is Werner. He's got balls like no one else."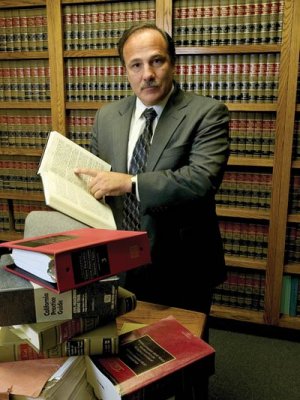 Meissner. [Photo] by John Gilhoolley. [This photo was printed in b&w and posted in color.]
The Guru
A gold-plated statue of the Virgin Mary tops the tower of Mary Star of the Sea in San Pedro. You can see her from 831 Ninth Street: her arms outstretched in acceptance, head surrounded by a halo of stars, face turned toward the cluttered law offices of Werner Meissner.
Meissner talks fast but low through a bushy salt-and-pepper mustache; in another era, he might have played a Jimmy Cagney's sidekick. He no longer boxes but still maintains a lithe figure thanks to his black belt in karate. Meissner continues to exhibit the requisite bravado.
"I'm not going to let anyone abuse my clients," he says. "Physically, legally or any other way.
"I'm the guy who started the damn thing," Meissner snaps as he discusses the flood of lawsuits that have swept over the Los Angeles Archdiocese in the past two years, including three of his own. "I know more about Ramos than anyone. I'm the guru."
It's partially true. In 1986, Father Andrew Christian Andersen pled guilty to 26 counts of molesting four altar boys while at St. Bonaventure in Huntington Beach. Just months before Michael hired Meissner, the Orange diocese settled a lawsuit with Mary Grant for $25,000 after she alleged that Father John Lenihan had sexually molested her during the late 1970s while he served at St. Norbert's in Orange. But lawyers who have sued the Orange diocese consider Meissner's 1991 case against Ramos the template for the stonewalling and vicious attacks the Orange diocese would levy against sex-abuse victims in the following decade.
"He's the one who started it all," says John Manly, a lawyer who has sued church officials from Orange County to Alaska for harboring pedophile priests. "And he did it when no one else would. He and Michael had the courage to go through that fire by themselves. It's amazing."
Meissner at first only wanted the Orange diocese to apologize to Michael and pay for his therapy. When diocesan officials wouldn't return his calls, Meissner hired private investigators. They found the diocese was still paying Ramos a stipend. They also turned up witnesses who claimed they had complained to church officials about Ramos.
But Meissner wanted more evidence. So while his investigators continued to dig, Meissner grilled Michael almost daily.
"It's easy to find evidence now because the courts make the diocese turn over those personnel files," Meissner says. He's referring to the documents church officials keep on their priests that can include anything from phone bills to parishioner complaints to signed confessions of pederasty. "But back then, it was so vague. It's like a puzzle with a bunch of esoteric pieces coming into place. Michael would say, 'I think there were pictures, I think we went to a motel,' and I would ask him to try to remember more so we could get them at the depositions."
Ramos at Robert's Wedding. Pictures of Ramos Courtesy of Robert. [This photo was printed in b&w, and was not posted in the OC Weekly's Web version.]
THE PRETRIAL DEPOSITIONS OCCURRED IN THE offices of Meissner and Peter Callahan, then and now the Orange diocese's lead attorney on sexual-abuse cases. Ramos came up from Tijuana, still a priest but now harried and fatigued. He never acknowledged Michael's presence.
Meissner says Monsignor John Urell, chancellor for the Orange diocese, approached him before the depositions began and said the diocese wanted Ramos gone just as much as Meissner and Michael, that Ramos "was a bad apple." But the diocese adopted a different stance once depositions began at Meissner's office.
First to be deposed was Michael. It lasted three days, eight hours each day, with only a lunch break, and involved every question imaginable. Meissner objected to as many questions as possible, "to protect him," but Orange diocesan lawyers would not let up. They had already contacted all his previous sex partners and asked Michael about each in detail. They asked about his encounters with Ramos and made him relive them in graphic detail. They asked him about his drug use. "They tried to say I couldn't be that messed up because I was still able to get degrees from college," he says. "Then they said I wasn't believable because I repressed those memories. Ramos even argued I was gay—therefore, it was okay."
But the toughest question Michael remembers was when Callahan asked how his family was handling it.
The truth was that Michael's family had become pariahs because of his lawsuit. His parents in particular anguished over how an institution they gave so much of their beings to could so ruthlessly attack their son.
"Here I was taking massive hacks at my family's foundation, and the cocksucker [Callahan] wants to know how it affected my family," Michael says, tearing up at the memory. "I just broke down. I wanted to jump across the table and kick his ass. You can do what you want to me, but don't fuck with my family."
Meissner next deposed Ramos. Church lawyers objected to almost every question Meissner asked the priest, citing the Fifth Amendment. Ramos admitted only to having sexual relations with Michael as an adult even after Meissner showed Ramos the letter he sent to Michael in the spring of 1990. And he denied Meissner's charge that he molested at least four other boys during his stay in the Orange diocese.
Meissner saw that the church's strategy was to argue the sexual relations between Ramos and Michael happened as consenting adults. Meissner found the argument misleading: "If someone's been molested since they were a child, you're going to tell me they'll ever have the capacity to consent? That was ridiculous."
So Meissner asked Ramos about the photos. Ramos admitted to taking photos of Michael, but only after he turned 18. Meissner asked if he still possessed them. Yes.
Then, to Meissner's and Michael's shock, Ramos' personal lawyer, Eugen C. Andres of the Santa Ana law firm Andres and Andres, whipped out a photo album. Photo after photo showed nude boys. Older boys. Younger boys. Michael from preteen to young adult.
"It was disgusting," says Meissner. "It was as if they said, 'Screw you—yeah, he did it, and there's your proof.' Out of nowhere! No feeling. No emotion. Nothing. The arrogance!"
Michael collapsed on the table and wept.
"I mean, I see those photos—every night I go to bed I see those photos," Michael told the diocese's lawyers. "This whole deposition is a nightmare."
It would get worse.
"Forgive me for using him for an instrument for my pleasure." Ramos asked the Lord. "Thank you for this opportunity to ask Juan for forgiveness."
THE FINAL PERSON TO BE DEPOSED WAS Bishop Driscoll. "I didn't receive any complaints [about Ramos] specifically to me," he told Meissner, claiming instead that all the information he knew came secondhand. Meissner pressed. Again, Driscoll claimed he had no knowledge of Ramos' abuse and only hearsay evidence of Ramos' alcohol problem.
Meissner knew Driscoll was lying. Earlier, he had deposed Lyda Brown, the teacher who originally wrote to Orange diocese authorities about Ramos. Brown stated under oath that she had threatened to report Ramos to police if Driscoll didn't do anything. He also had letters in Driscoll's own writing (see accompanying article) jotting down specific complaints about Ramos and boys. Meissner's sources also dug up a Dec. 3, 1979, letter Johnson wrote to Rev. Michael Peterson, head of the pedophile program Ramos attended in Massachusetts. In it, Johnson tells Peterson that Driscoll "is familiar with the situation and was with me when I met with Fr. Ramos to discuss his treatment at Saint Luke's."
But Meissner's most damning evidence was a statement by Father Robert P. Tressler, who replaced Ramos at Immaculate Heart of Mary in 1980. In a court declaration, Tressler recalled that an altar boy told him in the spring of 1982 that Ramos had molested him while at Immaculate Heart. Tressler took the complaint to Driscoll, according to the declaration; Driscoll told Tressler he "did the right thing by coming to him and that he would take all necessary and proper action."
When Driscoll continued to deny any knowledge of Ramos' crimes, Meissner finally blew up. He always wore a crucifix around his neck—had worn it since his teens. Now he yanked it off and shoved it in Driscoll's face.
"Does this mean anything to you?" he screamed at His Eminence. "What does it represent? This isn't honest, is it? Doesn't it have any dignity?"
Driscoll never answered. Meissner never wore the crucifix again.
MEISSNER AND THE ORANGE COUNTY DIOCESE SETTLED Michael's case in 1992 before it went to trial, though it didn't become public until the following year. Despite Meissner's objections, the Orange diocese persuaded Judge Richard N. Parslow to seal the terms of the settlement because it involved a minor, even as they insisted on Ramos' innocence. As part of the settlement, Michael suggested the diocese start an 800 number where victims could report abuse, a panel to address pedophilia amongst priests, a zero-tolerance policy and the release of personnel files. He also asked for an apology from the church. He wrote the suggestions in Bishop Norman McFarland's office. The church declined each request.
"It was bad enough what happened, but then they treated him like dirt," Meissner says. "Michael was just a kid going into puberty when the molestations happened. And then they didn't do anything about it. And now that they're being accused, they put him through hell again."
Meissner says he told the church lawyers just as they were about to finalize the deal that all Michael ever wanted was an apology. The lawyers were silent.
"That's it?" one finally replied. "How about we just give him $5 and apologize?"
One of Us
On Dec. 12, Mexicans across Southern California attend dawn Mass and venerate Our Lady of Guadalupe, a brown-skinned apparition of the Virgin Mary that is the patron saint of Mexico. According to legend, the Virgin appeared to the Indian peasant Juan Diego in 1531—just a decade after Cortés conquered the Aztec empire—and asked that the conquistadors build a cathedral in her name. Diego reported his encounter to Bishop Juan de Zumárraga, the man who introduced Roman Catholicism to Mexico. Zumárraga dismissed Diego's tale—why would the Mother of God appear to a mere native?—and demanded proof. Guadalupe provided it: on the spot where she appeared before Diego, roses bloomed in the winter snow. She instructed Juan Diego to gather them and present them to Zumárraga. Diego wrapped them in his tilma (cloak) and trudged back to the city. When he went to dump the roses at Zumárraga's feet, they were gone—replaced on his cloak by the magnificent image of Guadalupe. It's a miracle that draws millions of pilgrims to Mexico City each year even five centuries later.
Thanks to Eleuterio Ramos, the Virgin of Guadalupe is also the patron saint of the Orange diocese. When the diocese was founded in the fall of 1976, Ramos was made head of its Hispanic Commission. Latino immigrants were just beginning to transform Orange County, and the Catholic Church wanted to help. In 1977, under Ramos' guidance, the Hispanic Commission asked that the Orange diocese officially commemorate the feast day of Guadalupe. That Dec. 11, a couple of hundred people visited St. Edward the Confessor in Dana Point, where a shrine to Guadalupe was dedicated. Ramos delivered a short homily in Spanish.
This did not satisfy Ramos. In 1978, he had the diocesan Guadalupe memorial Mass moved to the Santa Ana Bowl. More than 7,000 attended. That Mass, as in most, Ramos wore a stole imprinted with the image of Guadalupe.
Ramos didn't limit his Latino activism to theological matters. On March 23, 1978, Sister Regina Gniot of Saint Joachim's in Costa Mesa wrote a note to Orange Bishop William Johnson expressing her admiration for Ramos. "I was at the board meeting of the Board of Supervisors yesterday when they took up the subject of medical care for illegal aliens," Gniot wrote. "I just wanted to tell you that I was really thrilled when Father Ramos got up to the microphone to tell the supervisors that he was coming as a representative of the Catholic Church in Orange and was putting all that weight behind the proposal. I am sure that this was at least part of the reason why the measure was adopted."
Ramos continued his Latino activism throughout his career in the Orange diocese. When he became pastor at St. Anthony Claret in 1985, Ramos placed Mexico's flag in the sanctuary, infuriating St. Anthony Claret's white parishioners. "When our Hispanic friends left Mexico, they did so for a better life in the United States. By so doing, they left their country and their flag behind," one angry parishioner wrote to Ramos.
"In your love and zeal for our Mexican brethren," another wrote, "you may have lost sight of the fact that this is the United States, not Mexico." The flag stayed.
Ramos remains a popular figure among former Latino parishioners because of this legacy, and despite the molestations.
"He reminded me of a crazy, fun uncle," says a former parishioner at St. Anthony Claret. "Most of the other priests didn't understand the needs of Latino Catholics. Father Ramos did."
"He was the first priest we could relate to," says Jaime, an Immaculate Heart of Mary parishioner who asked that we use only his first name. "At Immaculate Heart, we would always get white priests who spoke terrible Spanish and didn't care about our traditions. Ramos did."
Ramos was a friend of Jaime's family and would dine at his house at least once a week. "I just remember a warm, kind man. Very chill."
The parishioner remembers a potluck that Latino parishioners held for Ramos the weekend before he left for what they thought was his drinking. "The church leaders told us he was going to Tijuana for a couple of months," says the parishioner. "We gave him a money tree."
One thing always bothered Jaime, though. In his family album is a picture of Ramos during his sister's first communion. Ramos has his hands on the girl's shoulders. Tightly. Even as a child, Jaime remembers, "the picture seemed odd to me. I never saw a priest so close to a child like Father Al was to my sister. Even though he was a family friend, it seemed weird. The photo always fascinated me growing up."
Jaime became an altar boy the year after Ramos left. He was 7. "I could've been the next one," he says. "What if he stayed there just one more year? I've always stayed with that question.
"But I can't say anything negative about him," he added. "It wasn't until I read the articles in 1993 that I found out he was a monster."
The St. John's Protective Society
Years passed. Ramos left the priesthood and disappeared. Michael went on with his life. Meissner went on to successfully settle four other Ramos cases. So many new Ramos victims contacted the diocese that an Aug. 17, 1994, note by Monsignor Urell regarding an alleged Ramos victim is simply headlined, "Another one." Up until 2002, the diocese secretly paid for the therapy of at least two Ramos victims.
After Ramos and a couple of other priests were successfully sued during the early 1990s, the sex-abuse spotlight dimmed on the Orange diocese. But in 2001, John Manly and Kathy Freberg sued Father Michael Harris and the Orange and Los Angeles dioceses on behalf of Ryan DiMaria. DiMaria, who now works with Manly's law firm as an attorney, alleged the popular principal had molested him while a junior at Santa Margarita High School in the early '90s. Church officials not only covered up DiMaria's case, Manly claimed, but also knew about other sexual incidents involving Harris and students.
As part of the Harris suit, Manly deposed former Orange Bishop Norman McFarland, who replaced Bishop Johnson shortly after Ramos left for Tijuana. It was the first time a church leader had been deposed since Meissner's case against Ramos a decade before.
Manly asked McFarland about Ramos. McFarland replied he never met the priest but did know about Michael's lawsuit.
A transcript of the deposition shows Manly repeated Michael's name after McFarland mentioned it. Lawyers often repeat key phrases for dramatic effect; Manly says he repeated Michael's name out of shock. Manly and Michael both graduated from Mater Dei in 1982, and their friendship had blossomed in the years since.
Manly knew that Meissner had sued Ramos multiple times in the early 1990s, but all the cases were under seal, and he didn't know the names of the victims. So he never suspected a priest had abused Michael. Especially Ramos, whose ghastly background Manly had just discovered.
Manly requested a break. He went to the restroom and threw up. The thought still makes this mountain of a man cry.
"I found out about my friend's abuse thanks to McFarland," Manly says. "Gee, that's a great present."
Manly and Freberg successfully won a $5.2 million pretrial settlement against Harris and the Orange diocese a couple of months after the McFarland deposition. He returned to his specialty, real-estate law. But the Catholic sex-abuse scandal was about to explode across the United States. Thanks in part to the DiMaria case, the California Legislature passed a bill in late 2002 that lifted the statute of limitations on molestation cases in civil suits so that victims could file during the 2003 calendar year.
Manly's office was soon fielding phone calls from people who claimed Orange County priests molested them as children. One perpetrator kept popping up: Big Al.
"How do you go from a first communion service to radical, evil shit?" Manly says with disgust. "I don't think I'll ever understand. This was beyond mental illness. If Satan exists, Ramos had it in him to do this."
Tales of Ramos' ferocity stole Manly's sleep. How Ramos took children to porn stores in San Diego so seedy they were off-limits to armed forces personnel. Of a camping trip where the boy claimed Ramos molested him, and that "he noticed that the priest and four boys were missing, and that they were all in the priest's cabin." Of a boy escaping from an East Los Angeles motel room at 4 a.m., having to take the bus back to Orange County. Photographs. Alcohol. Vibrators.
Michael stayed away. Even when Manly and Michael met for their 20th class reunion in 2002, neither brought up the subject. By this time, Michael had joined the diocese's Sexual Misconduct Oversight and Review Board, implemented by court order in 2001 after the DiMaria-Harris case. It was the same idea Michael had suggested a decade earlier.
"It pissed me off they started it so late," Michael seethes. "Imagine all the lives we could've saved. But I still joined. Naively, I thought I'd be of service."
He quit after only a couple of months because "their M.O. was identical to what they put me through a decade ago."
The case of Father Dominic Nguyen particularly galled Michael. In 2002, church officials in Boise found child pornography on the priest's computer. Michael Driscoll, now the bishop of Boise, Idaho, sent Nguyen to Orange County. Here, the sexual abuse review board debated whether they should suspend Nguyen. The Orange diocese had just adopted a court-enforced zero-tolerance policy that automatically suspended any priest accused of molesting a child—the same idea Michael had suggested years earlier.
But Father Michael McKiernan, representative for Orange Bishop Tod D. Brown on the panel, tried to argue that child pornography didn't violate the zero-tolerance policy. "He said, 'Where is the victim in the child pornography?'" Michael recalls. "They said this to me, a victim of child pornography."
That day, Michael visited Manly's office and told his friend everything.
AFTER MEETING WITH MICHAEL, JOHN MANLY wanted Father Eleuterio Ramos behind bars—but not just yet. Manly had big plans for Ramos. He didn't want merely to depose Ramos or win settlements for his clients. Manly wanted to use Ramos as his prime piece of evidence for what he calls the St. John's Protective Society: the network of alumni of Ramos' alma mater, St. John's Seminary in Camarillo, that protected him throughout his career.
In the past decade, St. John's has emerged as a focal point for the Catholic Church's sex-abuse scandal, a seminary that produced child-molesting priests the way USC produces Heisman Trophy winners. Among Ramos' fellow graduates in 1966 were two of Los Angeles County's most notorious pedophile priests: Peter García, accused of sexually assaulting 12 boys, and Seal Beach resident Michael Wempe, who admitted to molesting 13 boys beginning in the 1960s and who's currently awaiting trial for molesting a 10-year-old. A third classmate, James M. Ford, faces one child-abuse accusation at Holy Family Cathedral in Orange during the 1960s. Michael Harris attended St. John's, as did Patrick Ziemann, a former Mater Dei teacher who resigned in disgrace as bishop of Santa Rosa in 1999 after reports came out he used a Costa Rican priest as a sex toy. Other graduates of St. John's include Los Angeles Cardinal Roger Mahoney (class of 1962) and former chancellor John Rawden, the man who first sent Ramos to counseling; Ramos' boss at St. Joseph in Placentia, George Breslin; Orange Bishops Tod D. Brown ('63) and Jaime Soto ('78); and former Orange Bishops Johnson ('44), Driscoll ('65) and John T. Steinbock, who graduated in 1963 and is now the bishop of the diocese of Fresno.
If there was one key to the Orange diocese sex-abuse scandal, Manly now says, "Ramos was it. Getting his deposition would've blown everything apart."
But before Manly could arrange to have Ramos deposed, a Ramos victim named Juan filed criminal charges against Ramos with the Orange Police Department. In 1982, when Juan was 12, according to an Orange police report, Ramos took him to Camelot after Mass at Our Lady of Guadalupe in La Habra, where Juan attended school and served as an altar boy. After a couple of hours, the two went to a movie at the old Cinedome Theater in Orange, where Ramos repeatedly fondled Juan as the boy silently prayed. After the film ended, they crossed the street to the Motel 6, where Ramos had already rented a room. Ramos gave Juan a four-pack of wine coolers and made him drink it. After a couple of sips, Ramos pushed Juan down on the bed and fellated him as the 12-year-old cried.
The molestations continued once a week for four years. Juan always tried to beg out of serving for Ramos, only to have his devout Mexican Catholic parents say he had no choice. Ramos took Juan to seedy motels in San Diego and left him in rooms with strangers who attempted to rape him. The abuse continued until Ramos left for Tijuana.
Juan told Orange police detectives he would meet with Ramos face to face and secretly record their conversation. Since Michael's suit, Ramos had lived the life of a nomad. He moved for a bit to his sister Mary's house in La Mirada before relocating to San Ysidro for eight years; sources say former parishioners still welcomed Ramos into their homes. In May 2003, Manly tracked Ramos to the Hacienda Trailer Rancho in Whittier: he discovered the priest poor, alone and near death. Ramos had lived there since 2000.
"Ramos was a good man," says August Tafoya, manager of the Hacienda Trailer Rancho. "Kept mostly to himself—would usually just pass by and say hi, but that was about it. Sometimes, his brother and sister would come by to visit.
ON MAY 1, 2003, JUAN KNOCKED ON RAMOS' Trailer. Orange police wired Juan to record the conversation. A tape of that recording shows Ramos did not recognize Juan until he began crying.
Ramos was near the end. He was no longer the burly, gregarious giant everyone knew as Big Al. His weight stood at 177 pounds. He had difficulty walking due to his diabetes. Ramos was on the waiting list for a kidney transplant and had to visit his doctor weekly for dialysis treatment. But Ramos was still a priest; despite the various lawsuits brought against him in the preceding years, the Orange diocese never bothered to defrock Big Al.
Juan began yelling and cursing at Ramos, blaming him for his failed life. All he wanted Ramos to do, according to the police report, was "for Ramos to say he is sorry."
"Forgive me for using you for an instrument of my pleasure," Ramos told Juan. He was still going to counseling for his alcoholism and pedophilia, Ramos said. He prayed for his victims every day. And then Juan and Ramos clasped hands and prayed.
"Forgive Ramos for all the things he did to me . . . molesting me as a child," Juan proclaimed, as heard on the secret tape.
"Forgive me for using him for an instrument for my pleasure," Ramos asked of the Lord. "Thank you for this opportunity to ask Juan for forgiveness. Give me all the illnesses so that I can be forgiven for all my sins."
Orange police visited Ramos four days later. Ramos confirmed Juan's story and provided the detectives with the names of three other victims. One of them was Michael; another was Robert; another was Frank. Ramos also admitted to molesting three other boys that police mentioned.
"Ramos also told me that there could be over 20 additional victims that I don't know about," wrote the Orange detective who filed the police report.
Manly began the procedures to depose Ramos. But a Los Angeles Superior Court judge stopped lawyers from any investigative work while he tried to negotiate a settlement between the Orange diocese and the alleged victims. So even after Ramos told all to the Orange police, Manly could only hope the priest stayed alive just a couple of months longer. Just until the deposition.
ON NOV. 16, 2004, PASADENA ATTORNEY Randy Medina used a computer database to conduct a records search on Ramos. By that point, lawyers for 90 sex-abuse victims and the Orange diocese were on the verge of announcing they had reached a $100 million settlement—at the time the largest in the history of the Roman Catholic Church.
Eleven victims had filed suits against Ramos—more than any other Orange County priest. Manly represented five, Meissner three, Medina one.
But as Medina pored over records, he discovered that Ramos had gotten away again. He had died eight months earlier, at Harbor-UCLA Medical Center in Torrance, due to complications from a kidney transplant. His family held the wake at Community Funeral Services in La Habra, just six minutes away from Ramos' old parish, Our Lady of Guadalupe. Ramos' family requested the morgue cremate Ramos; they kept his ashes.
No one with the Orange diocese or Los Angeles Superior Court had bothered to inform Medina, Manly, Meissner or any of the other lawyers pursuing Ramos. Medina called the Los Angeles coroner's office and other law-enforcement agencies to discover the circumstances of Ramos' death, but found nothing. Just a date: March 24, 2004, one day after Ramos' 65th birthday.
Medina met with Manly and the other lawyers that mid-November day and broke the news. There was general disbelief. The man who was key to breaking open the Orange diocese sex-abuse scandal was gone.
"I was worried about telling my clients," Manly admits. "They wanted the opportunity to confront him. They had suffered an emotional death sentence thanks to Ramos. And nothing of consequence had ever happened to him. The Catholic Church protected him through death."
Ramos' victims greeted the announcement in different ways. Some finally felt they could rest. Another told Manly he hoped Ramos' "motherfucking soul burns in hell."
Meissner was similarly angry. "My clients would rather have seen him rot in a jail cell," he says. "By dying, it wasn't much of a reaction. It was an easy out for Ramos. He should've suffered longer. His victims think he deserved to repent and apologize. He owed them more than just upping and dying."
Michael was almost beyond caring. The day Ramos died was also the five-year anniversary of his own son's death. "Ramos was secondary by then," he says. Michael visited St. Michael's Abbey in Silverado, released some balloons in memory of his son and drove home silently. And, as he had done for the past couple of years, he prayed for Ramos' soul.
The Rose Garden
I visited the Hacienda Trailer Rancho a couple of weekends ago looking for a rose gardener.
Manly told me Ramos had lived in a seedy trailer park on the bad side of town, but that's not true. All of the trailers, though small, feature the traits of people in their 50s enjoying the autumn of their life. Potted plants are everywhere. Vines snake up walls. Various tchotchkes decorate gates and doors. Wind chimes tinkle somewhere.
Everything is peaceful—except Ramos' former trailer, near the back of the Trailer Rancho. Its gray paint is drab and peeling. The windows are covered with frayed tinting; a paper cutout of an American flag covers one.
The trailer is deserted. Tafoya tells me no one has lived in the unit since Ramos passed away, but he doesn't know why. "I'm just the manager here," he says. "I don't go into the business." He also doesn't know why, despite the decrepit condition of the trailer, brilliant yellow and red roses bloom in the trailer's front yard—even in winter.
Neighbors tell me a man comes by every couple of days to prune and water the roses. Residents of the Hacienda Trailer Rancho who befriended Ramos near the end say the man doesn't talk to anyone—just tends the roses and disappears. They wonder who he is and why he cares for the rose garden of a dead child molester.
I knock on the trailer next door and talk to the man who answers. He moved into the Hacienda Trailer Rancho about the same time Ramos did.
"I never really talked to him, but he was nice," says the man in Spanish, who didn't want to give his name. "I didn't know anything about him. Never said where he came from. I knew he was sick, though, because he would always go to the doctor. From time to time, I would sweep outside his trailer. One time, he tried to pay me, but I refused. I didn't see him for a while. Then I heard he had died, and that was that."
I ask him about the rosebushes.
"That's the strange part," the man exclaims. "Someone always comes by and waters them. They don't talk to anyone—they just water them and leave."
Roses are a universal symbol of rejuvenation and love, something antithetical to Ramos' legacy. His appetite for children was grotesque and ferocious, like the monsters of medieval tales that fed on the souls of youth in the quest for salvation. Those roses seemingly grow in violation of moral law, of everything good and decent. But it's a fitting legacy: despite his sins, despite his actions, someone, somewhere, makes sure that Father Eleuterio Ramos is taken care of too.
[Note: This article was the cover story in the OC Weekly's December 16-22, 2005 issue. On the front page, the article was called "Judas Priest: The County's Worst Pedophile Got Away With It - And Then Got Away." The text that we post is from the OC Weekly's Web-posting of this article, but heads have been formatted to match the layout of the printed version more closely. We have made one change in the text. "Father" had appeared in the printed version of the subtitle but had been eliminated in the Web version. We have restored it. The printed version had six photos. Three of those photos were in the OC Weekly's posted version: Ramos dining at Robert's wedding, Ramos at ordination, and Meissner (in that order). In our Web posting we have included the other photos from the printed version as well: two 1989 photos of Ramos in Dallas, and another photo of Ramos at Robert's wedding. Where possible we used color photos, and we sequenced the photos as they are in the printed version.]